Joyfullife deodorant: How it all began
My name is Joy – I created Joyfullife in order to commercialize this great deodorant and make lots of people happy!
I've been looking for a natural deodorant that works well even in hot weather or when I'm under stress. I had tried countless of them and spent a lot of money… but to no avail, I ended up throwing them all away, half-used. I gave the problem a bit more thought  – and finally I came up with Joyfullife Deodorant.
My sister Sarah was the first one to try the deodorant and be completely won over. She used it during an 11-month bike trip and was delighted! She's also the one who encouraged me to launch the deodorant. Since then she has become my business partner and together we are the Joyfullife team.
We are personally committed to Joyfullife deodorant: a leading product among natural deodorants on the market. And for all skeptics: it is as reliable as a conventional synthetic deodorant.
Sarah and Joy - That's us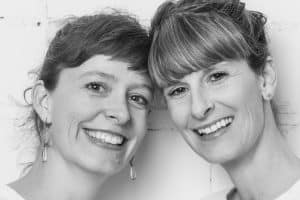 Joy is a nurse at Spitex, is trained as a breastfeeding counselor and is a craniosacral therapist. She is a mother of two and lives in Zurich.
Sarah is a mother of three, works in a library and is trained as a hypnotherapist. She lives in Le Locle.